Face coverings on public transport from 30 November
8 months ago Mon 29th Nov 2021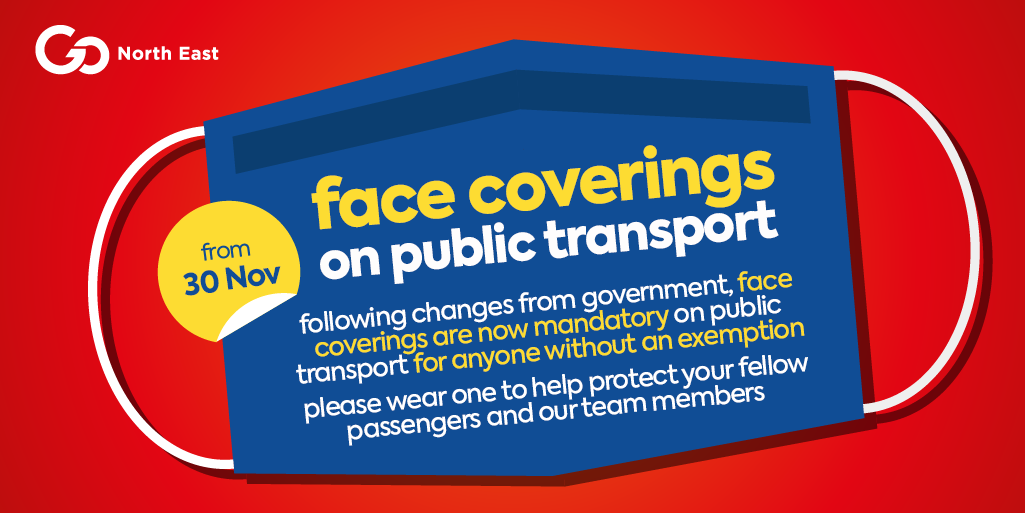 Following changes from government, face coverings will be mandatory on public transport from 30 November for anyone without an exemption.
Please wear one to help protect your fellow passengers and our team members.
Exemptions include:
Children under 11-years-old.
People with breathing difficulties and other respiratory conditions.
People with mental, physical or sensory difficulties, including those who may not understand or remember that they need to wear one.
People that would find it difficult to put on or take off a face covering safely, accurately, consistently or without pain.
People who rely on lip reading and accompanying carers who will need to communicate with them.
We expect everyone to wear a face covering if they can. Our drivers are already working behind a screen to protect them so they do not need to wear one.
There are no other restrictions at this time and we would like to remind you that all of our buses:
are cleaned regularly with extra focus to high touch points
have hand sanitiser fitted on board
accept contactless payments
Face coverings FAQs
When are face coverings required on public transport from?
Face coverings are compulsory on all forms of public transport, unless you fit into any of the government exemptions mentioned above.

What is a face covering and where do I get one?
A face covering can be mask, scarf, snood or bandana that covers your mouth and nose and is tied behind your head. You can even make your own – view this handy guide on how to make and wear a face covering.

Where do I need to wear a face covering?
Face coverings should be worn for the duration of your journey, and in bus stations and interchanges.

Do bus drivers need to wear a face covering?
No. As our drivers are already working behind a screen to protect them, they are not required to wear face coverings, but they can do so if they wish. If you're not wearing a face covering our drivers may ask you to download one of our cards that you can find further down the page.

How will face covering usage be monitored?
We do not expect any member of our team to put themselves in a position of conflict to enforce this and we expect passengers to follow government legislation. It's the responsibility of passengers to ensure that they follow the government legislation, this is not something that our team can enforce legally without the Police.
As we have throughout the pandemic, we continue to promote public confidence to travel by bus safely with our measures to improve ventilation through open windows, regular cleaning and our app and website tools which allow passengers to see how busy their bus is as well as where it is in real time.
At the same time we are undertaking a review of onboard customer hand sanitiser units and will be making masks available where we can on buses for drivers to hand out.

How do I let you know that I'm exempt from wearing a face mask?
We would ask that you work with us and comply with the requirement to wear a face covering if you can. If you are unable to then you should inform the driver, briefly explaining as you board.
To make things easier, you can use the award-winning Helping Hand scheme, which is fulfilled by our sister company Brighton & Hove Buses. The quickest way to start using this is to download a PDF and print your own at home, or save/screenshot it on your phone and show the driver when you board. If you can't do either then please consider asking a friend to download and print it for you.
We've also joined the Sunflower Lanyard Scheme to help those with hidden disabilities - find out more.
There are additionally cards available from Nexus that can be downloaded here.