Back to school safely travel guide
7 months ago Fri 21st Aug 2020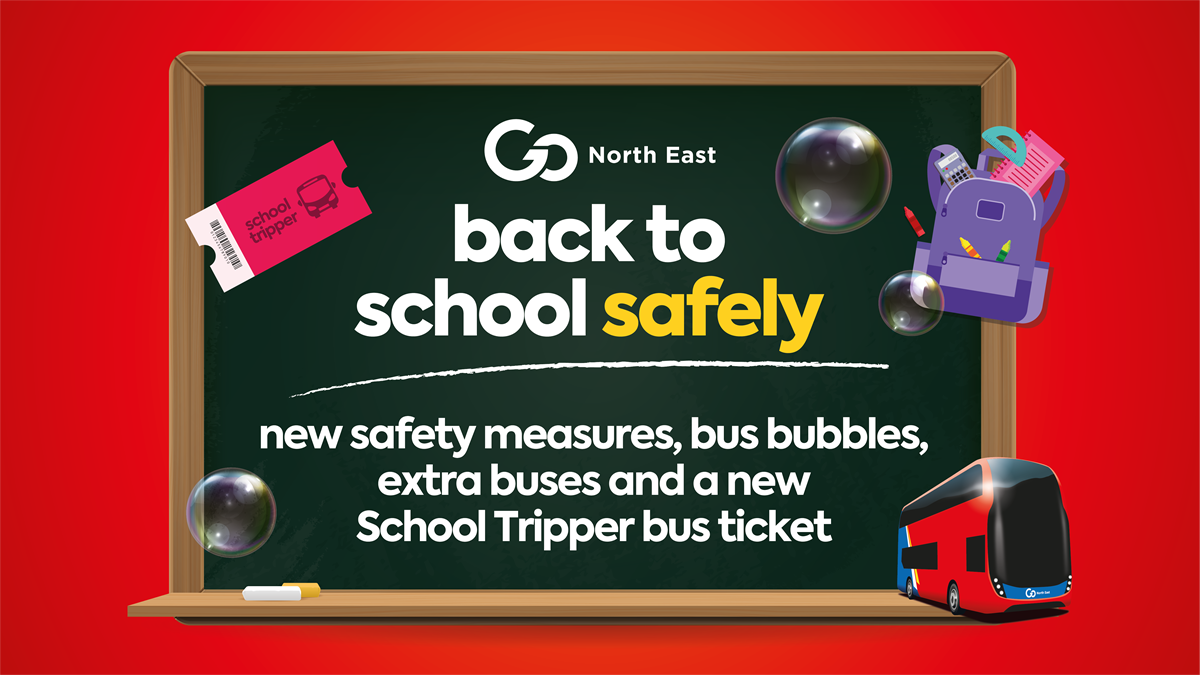 We're introducing changes to ensure children can get back to school safely.
The new measures follow the latest guidance from the Department for Education and the Department for Transport, covering both dedicated school transport and public bus services.
In addition to our normal school services, we're introducing extra journeys with the route number ending in 'S' that will only be available to school children and college students.
We're also launching a new 'School Tripper' ticket – more information below.
Dedicated school transport (including public bus services which only carry school children)
The Department for Education has confirmed that social distancing will not be required for dedicated school transport as they will be sharing a bus with others from their own school and no other members of the general public.
Buses can operate to their almost full seated capacity with no standees.
Students must sit together based on their year group as part of their school social
bubble, and where capacity allows leave a row of seats between each year group.
Face-to-face seating on board cannot be used and will be taped off.
Windows on the bus will be kept open where possible.
Face coverings will be mandatory for those aged over 11, subject to government exceptions – see Go North East's latest guidance on this.
Public bus services where other members of the public may also travel
Bus and public transport is now encouraged as it is recognised as a safe way to travel.
In line with current social distancing guidelines for public transport, buses can now carry up to 50-60% of their usual capacity depending on the mix of single passengers, family groups and school bubbles.
As with dedicated school transport, children may sit together on our bus services in their school or family bubble which enables more people to travel together and increases on board capacity.
Face coverings are also required when travelling on public bus services for anyone aged over 11.
Windows will also be kept open where possible to help with ventilation.
Introduction of a new School Tripper bus ticket
We're introducing a new School Tripper bus ticket which will be available on the Go North East app for anyone aged under 19.
The ticket will cost £12 for the week and will be valid for use from 7am-9am and 2pm-5pm on school days, allowing students to travel contact-free.
We also have other discounted tickets for young people in our 5 to 25 range.
School duplicate buses
In addition to our normal school buses, we'll be running special extra journeys of our normal services. These will have the same route number but will end in 'S' to show that the duplicate journey is for use by school and college students only. For example, a duplicate on the Prince Bishops 20 service will be numbered '20S'.
Please keep checking back as duplicate journeys could change or more added.
Service X1S
3.04pm from Houghton-le-Spring to Washington (arriving at 3.22pm)
Service 2S
7.58am from Vic Farm to Sunderland (arriving at 8.24am)
3.39pm from Sunderland Winter Gardens to Vic Farm (arriving at 3.59pm)
Service Q3S
7.50am from Great Park to Regent Centre (arriving at 8.08am)
3.35pm from Regent Centre to Great Park Village (arriving at 3.50pm)
Service 4S
7.19am from Washington Galleries to Houghton-le-Spring (arriving 7.49am)
7.53am from Houghton-le-Spring to Concord (arriving 8.41am)
7.59am from Usworth to Fallowfield Way (arriving at 8.25am)
2.54pm from Houghton Kepier to Heworth (arriving at 3.50pm)
3.09pm from Washington Galleries to Houghton-le-Spring (arriving at 3.40pm)
3.25pm from Fallowfield Way to Concord (arriving at 3.46pm)
Service 5S
7.29am from Jarrow to Boldon School (arriving at 8.04am)
7.51am from Boldon Asda to Jarrow (arriving at 8.20am)
2.47pm from Jarrow to Boldon Asda (arriving at 3.23pm)
2.56pm from Boldon School to Jarrow (arriving at 3.30pm)
Service M6S
7.34am from Stanley to Metrocentre (arriving at 8.22am)
3.22pm from Metrocentre to Stanley (arriving at 3.54pm)
Service 10AS
7.43am from Blackhall Mill to Charles Thorp (arriving at 8.27am)
2.45pm from Charles Thorp to Blackhall Mill (arriving at 3.20pm)
Service X15S
7.36am from Shotley Bridge to Durham (arriving at 8.44am)
8.02am from Lanchester Village Green to Consett (arriving at 8.19am)
4.03pm from Durham to Shotley Bridge (arriving at 5pm)
Service 16S
7.22am from Consett to Durham (arriving 8.37am)
3.39pm from Leazes Bowl in Durham to Consett (arriving at 4.55pm) – this duplicate journey will not serve Durham Bus Station
4.16pm from Framwellgate Moor to Consett (arriving at 5.24pm)
Service 20S
7.30am from Sunderland to Framwellgate Moor (arriving at 8.40am) – this duplicate journey will not serve Durham Bus Station
8.35am from Sunderland to East Herrington Board Inn (arriving at 8.48am)
3.26pm from Framwellgate Moor to Sunderland (arriving at 4.29pm) – this duplicate journey will not serve Durham Bus Station
4.05pm from Framwellgate Moor to Sunderland (arriving at 5.02pm) – this duplicate journey will not serve Durham Bus Station and will be numbered '20', so it can assist other buses by carrying extra passengers
Service 21S
3.20pm from Chester-le-Street to Gateshead (arriving at 3.53pm)
3.32pm from Leazes Road in Durham to Gateshead (arriving at 4.33pm) – this duplicate journey will not serve Durham Bus Station
Service X21S
7.59am from Spennymoor to Framwellgate Moor (arriving at 8.38am)
3.26pm from Framwellgate Moor to Bishop Auckland (arriving at 4.14pm)
Service 27S
8.10am from Jarrow to Mill Tavern (arriving at 8.30am)
3.06pm from Mill Tavern to Jarrow (arriving at 3.24pm)
Service 35S
8am from Houghton-le-Spring to Sunderland (arriving at 8.39am)
Service 39S
8am from Doxford to Sunderland (arriving at 8.27am)
8.03am from Sunderland to Tunstall Village Green (arriving at 8.20am)
3.16pm from Tunstall Village Green to Sunderland Winter Gardens (arriving at 3.33pm)
Service 49S
7.58am from Gateshead to Dunston Park Terrace (arriving at 8.13am)
3pm from Dunston Park Terrace to Gateshead (arriving at 3.13pm)
Service 50S
7.45am from Washington Galleries to Durham (arriving at 8.32am)
Service 56S
8.12am from Gateshead to Wrekenton (arriving at 8.30am)
Friday only – 2.35pm from Wrekenton to Gateshead (arriving at 2.52pm)
Monday to Thursday only – 3.20pm from Wrekenton to Gateshead (arriving at 3.37pm)
Service 57S
7.58am from Heworth to Gateshead (arriving at 8.30am)
3.12pm from Gateshead to Heworth (arriving at 3.39pm)
Service 60S
8.01am from Seaham to Sunderland (arriving at 8.31am)
8.02am from Parkside to Sunderland (arriving at 8.43am)
3.10pm from New Seaham Mill Inn to Parkside (arriving at 3.31pm)
3.48pm from Park Lane to Parkside (arriving at 4.24pm)
Service 61S
7.57am from Murton to Sunderland Interchange (arriving at 8.44am)
3.10pm from New Seaham Mill Inn to Murton (arriving at 3.37pm)
Services 93S & 94S
93S from Gateshead at 7.36am
7.40pm from Heworth to Gateshead (arriving at 8.25am)
94S from Gateshead at 3.15pm – on Fridays this journey will run at 2.25pm
Service 97S
7.26am from Gateshead to Newcastle (arriving at 8.46am)
Tuesday and Friday only - 2.12pm from Metrocentre to Gateshead (arriving at 3.54pm)
3.12pm from Metrocentre to Gateshead (arriving at 4.02pm)
Service 265S
7.34am from Seaham to Framwellgate Moor (arriving at 8.40am) – this duplicate journey will not serve Durham Bus Station
7.35am from Seaham to Framwellgate Moor (arriving at 8.42am)
3.40pm from Framwellgate Moor to Seaham (arriving at 4.40pm) – this duplicate journey will not serve Durham Bus Station
3.50pm from Durham to Seaham (arriving at 4.46pm)
Service 680S
7.30am from Bellingham Heritage Centre to Queen Elizabeth High School (arriving at 8.38am)
3.30pm from Queen Elizabeth High School to Bellingham (arriving at 4.33pm)