The new and improved Go North East app is here!
1 year ago Thu 6th May 2021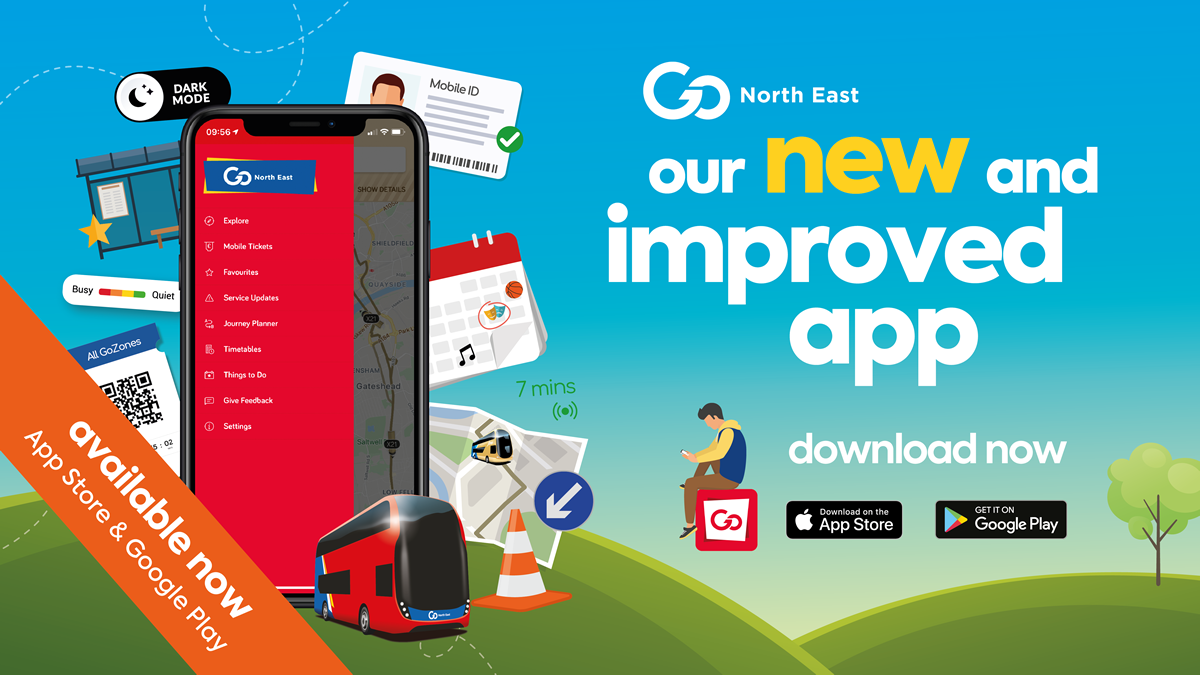 We've launched a complete new app, which can be downloaded on Android or iOS devices and comes with a whole host of new features, as well as improved versions of the ones you love from our old app.
| | |
| --- | --- |
| Mobile tickets | All the tickets you're used to seeing in our app, including our flexible ticket options which are great for part-time or blended home and office working. |
| Live times and maps | See live times and your bus moving on a map in real-time, so you know exactly how long you've got to get to the bus stop. |
| Live bus tracking | Click on your bus on the map to see how many seats are left, if it's a single or double-decker, what colour it is, and the features it has such as free Wi-Fi and charging points. |
| Dynamic timetables | As well as live times, you can also look ahead by browsing timetables as we've squeezed all of our routes and timetables into the palm of your hand. |
| Favourites | You can favourite bus stops, timetables and journeys for quick and easy access. The same favourites from your app account will also be shown when you log into our website. |
| Improved journey planning | Getting from A to B has never been easier. Our handy journey planner will have you on your way in no time at all, and it'll also show you how much CO2 you'll save by making the journey with us instead of taking the car. |
| Better service updates | No one likes disruptions to their journey, but now you'll be able to keep up to date with any roadworks or diversions for your service. |
| Hassle free ID | Young people can verify their age in the app for our money saving 5 to 25 ticket range, so there's no need to carry ID with you once you're verified. |
| Ticket gifting | Gift tickets to friends or family with just the click of a few buttons – just simply select 'it's a gift for someone else' when you're at the checkout stage. |
| Things to do | The latest events and attractions across the North East for days out ideas, which includes a handy 'get me here' button for quick and easy journey planning. |
| Customisation options | Prefer to use dark mode in low-light settings or to save your battery life? Well, now you can use it on our app too. You can also customise things like your app start screen, so you land right on the information you want. |
And a whole lot more! We know you'll have some questions, so here's some answers to the things you might be thinking…
Do I need to create a new app account?
Yes, this is a complete new app so you will need to set up an account. Once you download the app, simply open it and click on 'Settings', followed by 'sign in' and then 'Create an account'.
If I want to purchase tickets from your 5 to 25 range, how do I verify my age?
It's as easy as 1, 2, 3…
Buy a 5 to 25 ticket as you usually would
You'll then be prompted to upload a selfie
You'll then need to verify your entitlement before you can use the ticket – you can do this by using your passport, CitizenCard, photographic driving licence, Validate UK cards with the PASS hologram and Young Persons 16-25 Railcards.
Once that's all done, we'll get things checked on our side – it can take up to 48 hours to get verified, so please make sure you buy your ticket in advance of when you're wanting to travel so we can get you verified in time.
As soon as your ID is approved, you're good to go and you can keep coming back to buy our discounted 5 to 25 tickets.
If you continue buying tickets on our new app, there's no need to carry your ID with you any longer. You'll only need your ID if you're buying tickets on the bus.