£2 fare cap on all our local bus services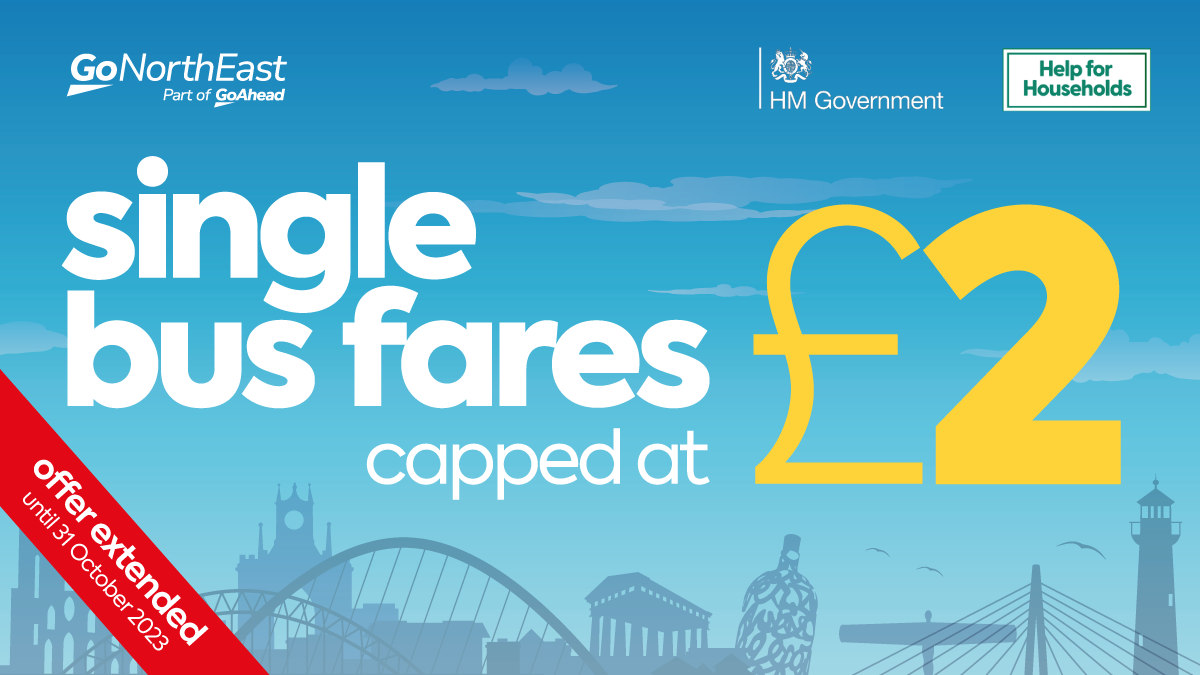 Until October 2023, the Government are funding a cap of £2 on all adult single bus tickets.
This means that you can travel on any of our local bus services, at any time of the day, for just £2.
A few 'short hop' single and return fares will remain less than £2, so you will not pay any more than usual for your journey.
Plan your journey
Getting from A to B couldn't be easier with us. As well as a handy journey planner, our website and app also include live times and interactive maps, so you can see exactly where your bus is.

You can buy your £2 fare ticket from the driver - either with cash, or your contactless bank card - just state your destination, and the driver will issue you with the discounted fare.
After 7pm, all you need to do is simply tap your bank card on the reader and you'll automatically be charged £2 - no ticket will be issued, speeding up your journey.

What exactly is the £2 bus fares cap?
Until October 2023, the cost of an adult single bus fare will be a maximum of £2 in England outside London. This is being funded by the Government to help ease cost of living pressures over the winter. The cap will help people save money on their travel costs and will encourage more people to choose buses for local journeys and beyond.
What journeys does it cover?
The £2 adult single fare will cover all journeys by participating bus operators on local bus services. Go North East is participating, so any journey you take on our local bus services will be included. If you normally buy a return ticket, this will be capped at £4.
Is there a maximum distance?
No, there isn't a maximum distance.
What payment methods are included?
All payment methods are included. You can pay for your ticket in cash or using contactless card/device - you won't be charged more than £2.
My usual fare is below £2. Does this mean it will go up to £2?
Some 'short hop' fares cost less than £2, and will therefore remain unchanged, so you will not pay any more than usual for your journey.
Does this cap cover child fares as well as adult fares?
Our great value £1 21 & Under single will remain at its current price.
Are the prices of other tickets, such as weekly, monthly and multi-trips affected by the cap?
No, these tickets will remain the same as they are now. Depending on how often you travel, you may find that the £2 single fare is cheaper for you. This will depend on the type of ticket you purchase - please get in touch with us if you aren't sure.
I have a concessionary ticket and get free/discounted travel. Will I have to pay £2?
As part of the offer, you won't pay more than you usually do for a journey. If you were previously paying less than £2, or if your journey was free of charge, nothing changes.
What happens if I change buses - do I have to pay £2 twice?
Yes, you do. The fare cap only applies to a journey on a single bus. If you're travelling on more than two buses in a day, it will likely be cheaper to purchase a day ticket for the zone you are travelling in - check out our range of tickets here.
How long does the offer last?
The offer runs until the end of October 2023.
Could it be extended?
The England-wide national offer was originally due to end on 31 March 2023, but has been extended to October 2023. It is possible that there may be local fare offers beyond that date - if so, they will be publicised.