How to get to your COVID-19 vaccination appointment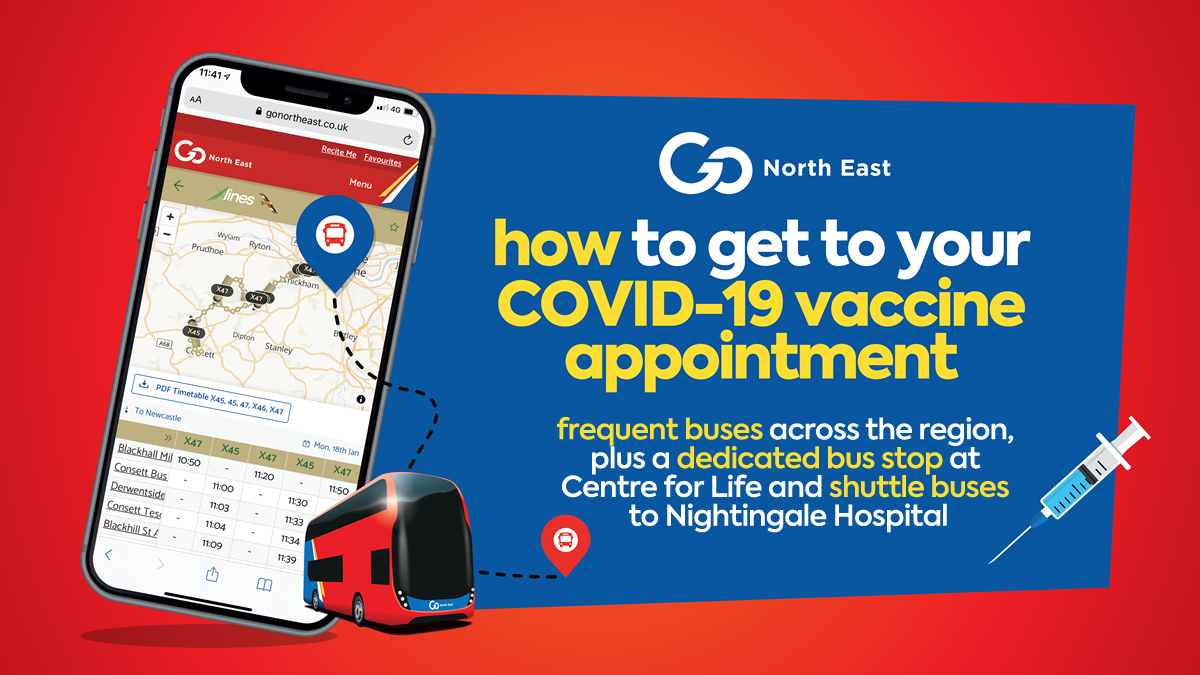 Whether your vaccine appointment is at one of the region's vaccination centres, hospital hubs or local vaccination clinics, getting there couldn't be easier with us.
We run a wide range of frequent buses across the region, including shuttle bus services which have improved access to the Nightingale Hospital vaccination centre. We've introduced a dedicated bus stop outside the Centre for Life vaccination centre in Newcastle, and three of our services stop nearby the Arnison vaccinaton centre.
If you're a concessionary pass holder in Tyne and Wear or County Durham, you can also travel free before 9.30am if you have an appointment – all you need to do is show your letter, e-mail or text message with your pass when you board the bus.
How to get to the Nightingale Hospital North East vaccination centre
We have vaccination centre shuttle buses operating to Nightingale Hospital vaccination centre in Washington, providing great connections with local buses and the Tyne & Wear Metro.
Our 50 service and Cityrider 56 also stop just a short walk from the vaccination centre.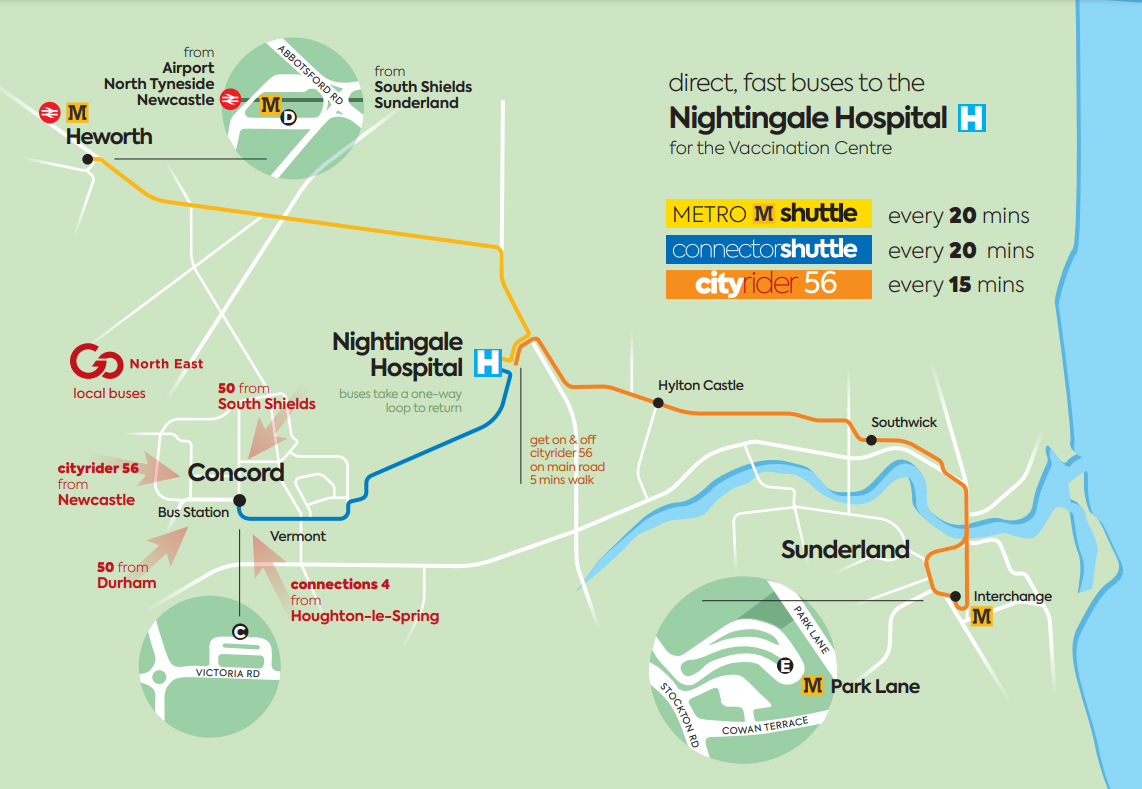 How to get to the Arnison vaccination centre
Getting to the Arnison vaccination centre is easy on the following services.
Use our handy map below to see where you need to get off. If you're heading towards Durham on the 21, or towards Sunderland on the X20, these services also stop near Lidl.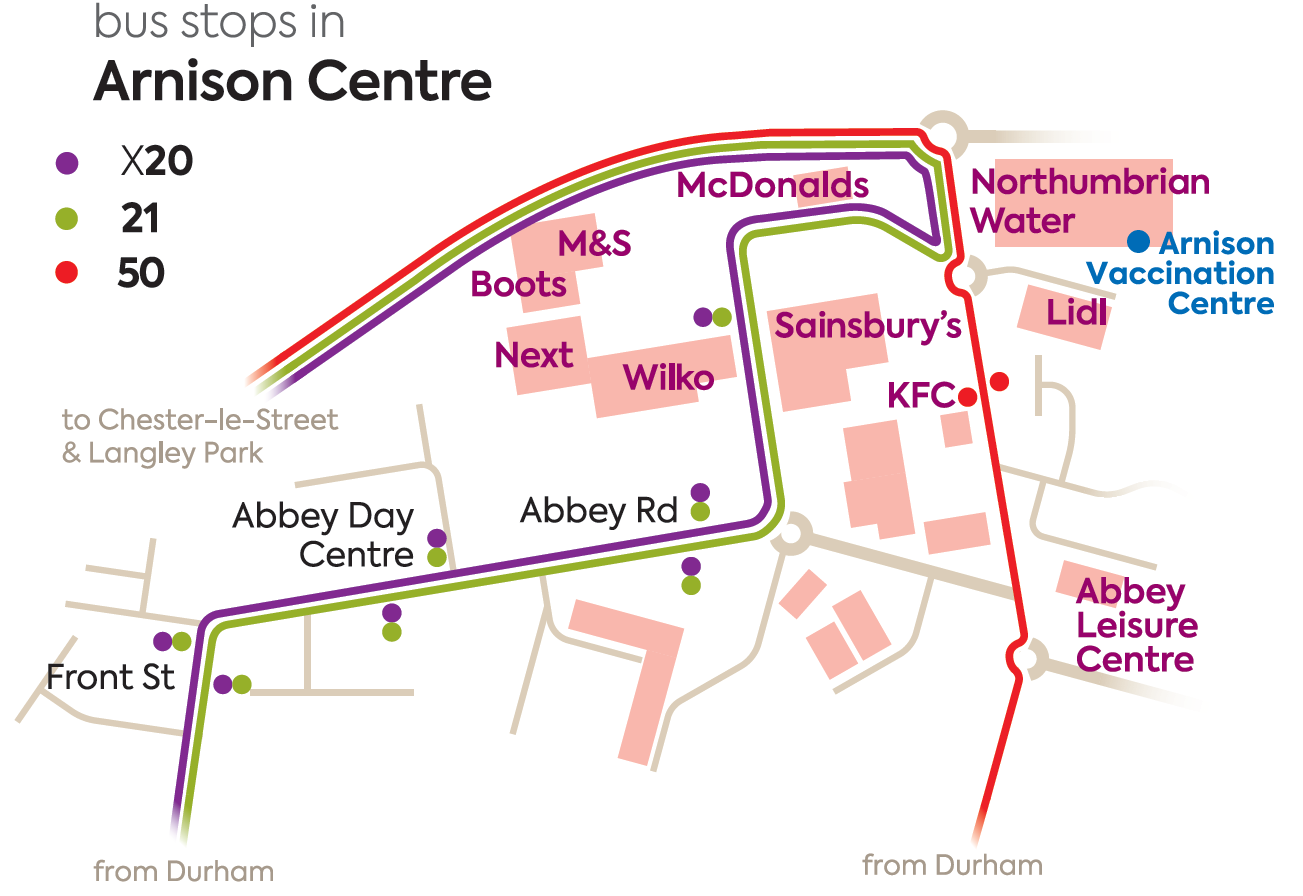 How to get to the Centre for Life vaccination centre
To improve access even further, we've introduced a dedicated bus stop right outside Centre for Life. The following services serve Clayton Street West when heading into Newcastle and the new dedicated bus stop when leaving Newcastle.
Our Quaylink Q1 and Q2 services also stop at Central Station, which is just a short walk away.
Hospital hubs and local vaccination clinics
Across the region, there are also a number of hospital hubs and local vaccination clinics that are accessible with us.
Once you have your appointment, simply use our journey planner and you will be on your way in no time at all.
Journey planner
If you're still unsure how to get to your appointment you can use our handy journey planner – just select the relevant link below.
Capacity checking tools
You can also check how quiet your bus is going to be with our capacity checking tools.