Financial Planning and Analysis Manager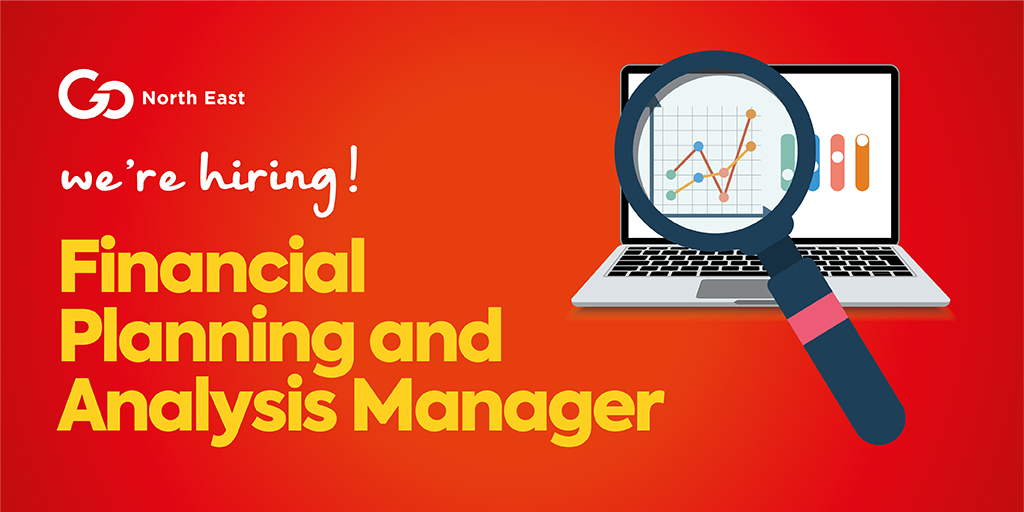 For over 100 years, Go North East has connected the region's towns and villages with the cities of Newcastle, Durham and Sunderland and currently operates across Northumberland, Tyne and Wear, County Durham and into Tees Valley. We are proud to employ 2,000 local people, with around 175,000 journeys made on our bus services every day which are operated by our fleet of around 650 buses and coaches.
By providing essential bus services Go North East helps people connect with each other and get where they want to go, enabling access to education, retail and employment. We place great importance on partnership, adopting a collaborative approach with local governments, local communities and strategic partners, and we are committed to providing our communities with affordable and sustainable travel.
Following a structural change in the finance team a vacancy has arisen for a Financial Planning and Analysis Manager to join the team at our head office in Bensham, Gateshead. Working alongside the Financial Controller and the Finance Operations Manager and reporting to the Finance Director, the successful candidate will manage a small team and support the production of weekly and monthly management information and accounts.
The Role
There is a blend of exciting and challenging times ahead for the UK bus market as we emerge from the effects of the pandemic and adapt to new patterns of travel demands. Navigating both the post pandemic business challenges and playing our part with the formation of the Bus Service Improvement Plan and Enhanced Bus Partnership is requiring a lot more strategic, planning and solid financial decision making from us.
Providing management with highly insightful data-driven financial management information on a timely basis to support these objectives is now more essential than ever for the company to succeed, so an opportunity has now arisen for the new role of Financial Planning and Analysis Manager to join our finance team.
Working directly for the Finance Director, the role will provide outstanding financial and business partnering support ensuring the management team is provided with relevant and insightful management information in order to make better data-driven decisions.
You must work proactively in a fast-paced environment partnering on a daily basis with counterparts in the finance team as well as in the business and Go Ahead Group. You'll drive structure and focus across the FP&A team in addition to providing information to management that will help them to drive better outcomes.
You'll be responsible for creating management reporting as well as leading the periodic financial planning cycles, so you'll have strong communication skills and proven experience presenting complex financial information into a digestible format.
Key Responsibilities
Develop and improve the management information processes and outputs in order to provide management with timely and insightful management information
Work closely with our Commercial team to prepare monthly route profitability analysis on a timely basis
Support and liaise with the Financial Controller and Finance Operations Manager regarding internal controls and best practice for the business to maintain internal and external audit standards and integrity of all financial reporting
Provide weekly and monthly key financial KPI information to all levels of management
Be the key contact for P&L queries from Senior Management and Cost Centre Managers
Lead and develop the FP&A team to deliver FP&A and business partnering support to Commercial, Operations and Engineering teams
Lead and coordinate the financial reporting cycles such as monthly management reporting, quarterly forecasts, and annual corporate planning cycles
Take responsibility for the internal and Group reporting of non-financial KPI's and work with local managers to develop and standardise the processes with a view to utilise Microsoft Power BI for all KPI reporting
Be a key contributor in any (group led) projects in the Finance space
Develop and manage a small team
Qualifications and Experience
A qualified Accountant (ACA, ACCA or CIMA)
Experience of developing analytics and new reports
Strong system skills, including Excel, with the ability to design and implement Excel tools
Financial modelling experience
Power BI experience strongly desirable
Experience of Oracle Financials and TM1 would be an advantage but is not essential
Experience in transport industry (desirable)
Prior experience of staff development and management would be an advantage
Person specification
A positive, self-motivated and driven character with a clear desire to succeed
An inquisitive mind, with a proven track record of problem solving, project management and continuous improvement in a business environment
Able to identify, investigate and explain key financial issues and trends, and conveying it clearly and accurately to the senior management team
A skilled communicator with the ability to build effective interpersonal relationships and work well in a team
A high level of accuracy
Able to effectively prioritise workload to meet deadlines
A flexible approach to working hours, recognising that workload may vary according to the needs of the business
A high level of self-awareness, with a willingness to pursue personal development
An informal yet committed and pragmatic approach, capable of working within a highly committed Head Office environment
The highest levels of honesty and integrity
If you don't feel that you tick all the boxes in terms of experience but think that you'd be a great fit for our role and organisation we'd still love to hear from you. Salary is flexible dependant on experience. Please provide salary expectations and any notice periods along with your CV.