Coronavirus updates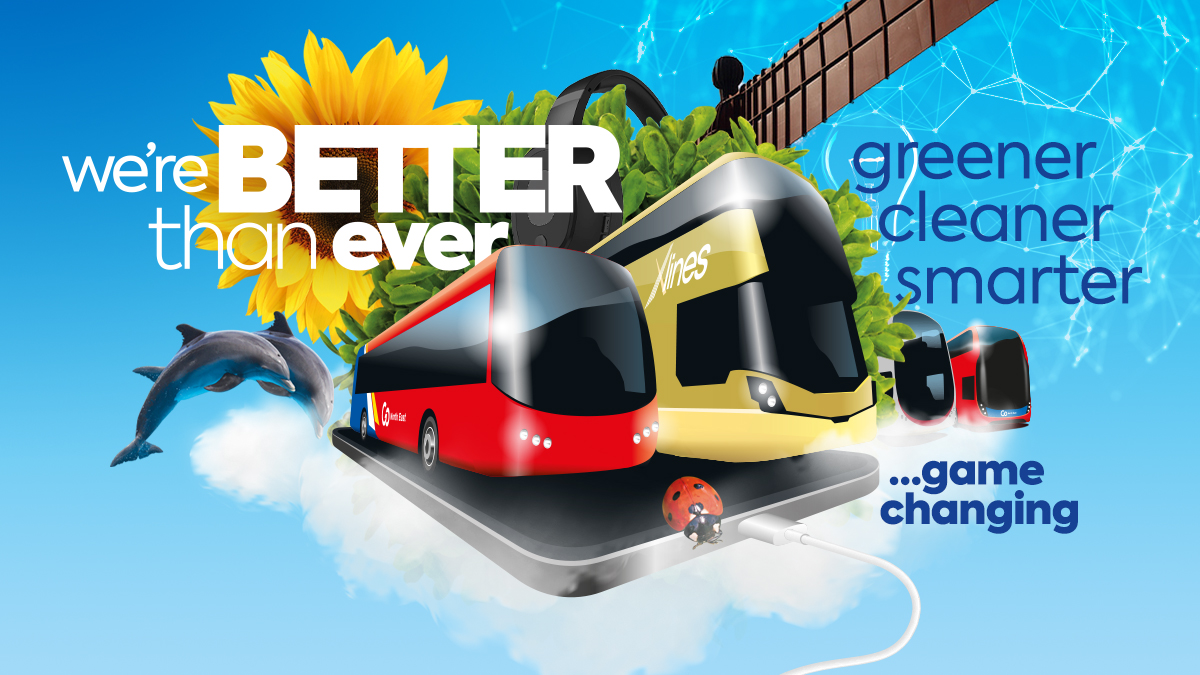 We're back, BETTER than ever.
Full timetables are running on our services, with 24/7 timetables introduced on our popular Angel 21, Cityrider 56 and Drifter 60 routes.

We've also launched a £1 evening single fare offer that can be used on our buses after 7pm each evening.
We're back, BETTER than ever – greener, cleaner, smarter... game-changing!
Seasonal staycation services
We've launched four seasonal services to help give the region's staycation market a boost.
COVID-19 safety information and travel tips
Plan your journey
Plan ahead and use a direct route where possible
If you can, travel at quieter times and avoid travelling at peak times – use our handy When2Travel and how many seats website features to see how many seats are left on your bus
Take hand sanitiser and a face covering – see latest guidance for face coverings
Please plan ahead and use contactless or the Go North East app where possible, as we're unable to give change. If you still need to pay with cash, please use the exact fare.
If you require assistance, you should continue to request this as you normally would
Wash or sanitise your hands before beginning your journey
If you're feeling unwell, please don't travel
If you can, download the NHS COVID-19 app before travelling
On your journey
If you can, sit next to a member of your household or bubble
If travelling alone, try and sit one person per double seat and, if the bus is quiet, try and leave a row in front and behind you clear
Unless you are exempt, please wear a face covering throughout the duration of your journey – see latest guidance for face coverings
Use contactless payments or the Go North East app where possible, as we're unable to give any change
Be patient and please follow any instructions provided by our team members
Wash or sanitise your hands as frequently as possible
Please open windows to help with ventilation
Completing your journey
When you finish your journey, you should:
Follow guidance at your destination
Walk and cycle from public transport to your destination, where possible
Wash or sanitise your hands as soon as possible
We're Good to Go
We want to reassure you that travelling by bus is safe – we've put a series of measures in place to make sure that our buses are clean and tidy for you.
We've also achieved VisitBritain's 'Good to Go' accreditation, which confirms that we're adhering to government and industry COVID-19 guidelines, and have rigorous cleaning, social distancing and safety measures in place.
How many seats are left on my bus?
When planning in advance use our handy When2Travel prediction tool to see when's the best time to travel, then use our how many seats feature on the day to see how busy your bus is in real-time – it'll even tell you if your bus is going to be a single or double-decker and what features it has, such as free Wi-Fi and USB charging.
Flexi 5 tickets
If you're a part-time worker, or just working more flexible at the moment, we have the perfect solution for you – check out our new range of Flexi 5 tickets. They're just like you usual weekly ticket but split over any 5 individual days to help you get the best value for money.

FAQs
Can I pay with cash on the bus?
We only ask that you pay with cash if you have no other option. Please provide the correct fare as we're unable to give change as our drivers are no longer handling cash. Where possible, use contactless payments or the Go North East app instead.
Who may and may not travel?
As per government advice, anyone can now travel with us. We just ask that you familiarise youself with our safety and travel advice on this page if you haven't travelled with us for a while.
Please don't travel if you are experiencing any coronavirus symptoms, are self-isolating as a result of coronavirus symptoms or sharing a household or support bubble with somebody with symptoms, are clinically extremely vulnerable and cannot shield during your journey, or have been advised by the NHS test and trace service that you should self-isolate.
What timetable is being operated?
Services have returned to timetables that are similar to their pre-coronavirus times. They can all be viewed in our timetables and maps section.
What if I'm disabled and require assistance?
If a disabled passenger requires assistance they should request this in the same way they usually would. If for any reason a wheelchair user is unable to travel with us, a complimentary taxi will be arranged.
Do I need to wear a face covering?
Yes, you now need to wear a face covering on public transport. This can be a mask, scarf, snood, bandana or even something you can make out of an old t-shirt. There are also some people that will be exempt from wearing a face covering - see our latest guidance.
What additional cleaning is being carried out?
Our buses are being cleaned regularly, even through the day with touchpoints rubbed down and a deep clean is done each night.
Is hand sanitiser available on your buses?
Yes, we have fitted hand sanitiser units on our buses, so please use these as you board and again when leaving the bus.
When is the best time to travel?
If you can, we ask that you travel outside of peak times to save space for those that have no other option but to travel at that time. We've also launched two innovative features on our website that let you see how busy our buses are going to be. Our When2Travel tool allows you to look up to two weeks ahead using a forecasting engine to predict how busy each bus will be, even down to individual bus stops. Then on the day, you can use our live 'how many seats are left on my bus' feature to see if the bus you're going to catch is quiet or not.
What happens if the bus I'm waiting for is full?
Unfortunately, our capacity for each bus is reduced at the moment due to social distancing. If a bus is full, you may see the 'bus full' sign on the front of the bus and we kindly ask that you are prepared to wait for the next bus in cases like this. So far, we are only seeing a small number of journeys around peak time that are near our social distancing capacity. We are monitoring things daily and should there be any recurring issues we'll look at providing further journeys.
What happens if the last bus of the day is full?
We won't leave anyone stranded with our last buses. We're continually monitoring passenger numbers and our last buses aren't reaching social distance capacity. We'll continue to monitor all journeys and should anything change we'll look to see if we can duplicate journeys to ensure you can travel.
Are there any Go North East travel shops open?
Sorry, our travel shop at intu Metrocentre isn't open. If you require any help, our customer services team are online from Monday to Friday between 9am and 5pm. You can call us on 0191 420 50 50, use live chat on our website, or contact us on Facebook or Twitter.