Bus driving jobs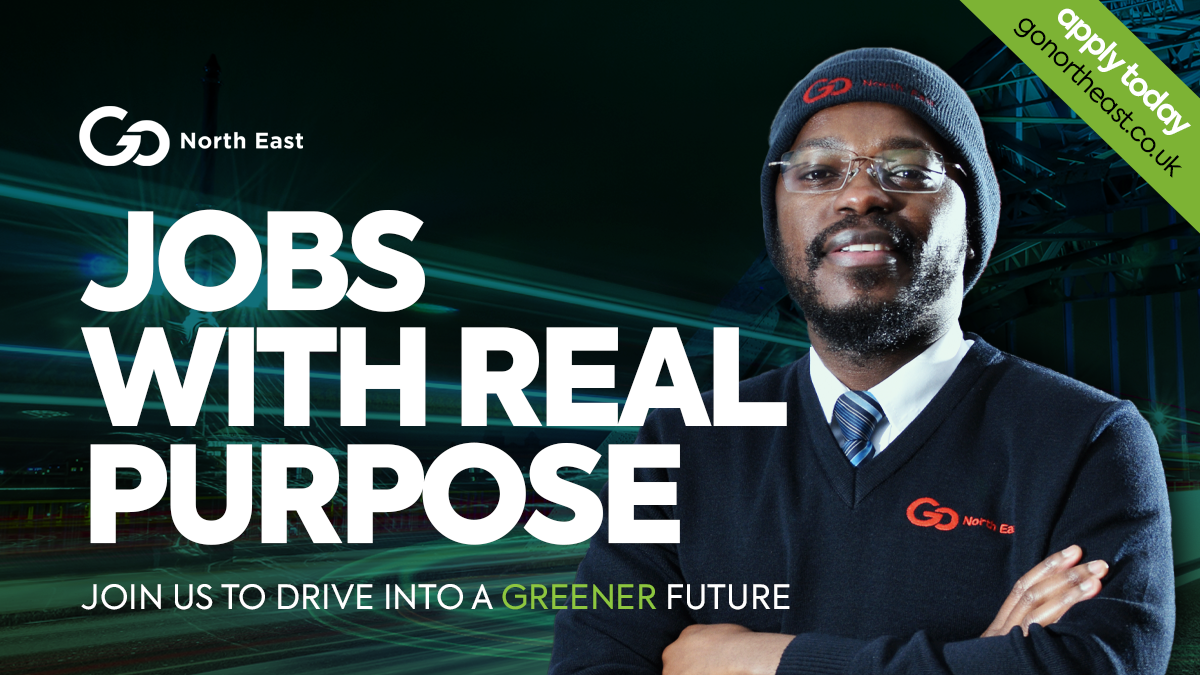 Want a job with real purpose? Join us to drive into a greener future – help connect communities, bust congestion and improve air quality.
Our professional drivers provide safe, reliable and efficient passenger journeys across the North East, providing our valued customers with the best quality travel experience through their friendly, knowledgeable and helpful approach.
Where would I be based?
We have depots right across the North East, with vacancies currently available in Consett, Gateshead, Hexham, Percy Main, Sunderland and Washington. You can request which location you'd like to work at when you complete the application form.
Already got a PCV licence? Get a £750 welcome bonus!
If you've already got a PCV licence there's never been a better time to join Go North East. Anyone starting a new driving job with us between 1 July and 31 August 2022 will qualify for a £750 welcome bonus.
£250 will be paid after your first week of driving in service without the supervision of your mentor
£500 will be paid the week before Christmas
Do I need to have a bus driving licence to apply?
No previous bus driving experience is required to become a bus driver, thanks to our award-winning in-house Training Academy, where full training is provided free of charge.
We'll teach you how to drive a bus, put you through your bus driving test, whilst also covering accessibility and customer services training. Ongoing training will also be provided.
A minimum of 12 months car driving experience is required. Applications are also welcomed from those who already hold a PCV licence.
What are pay and benefits like?
Minimum £10.50 starting wage once qualified (£21,300 a year).
All pay rates reviewed annually.
Increase your earnings with overtime – plenty of opportunities with some drivers earning up to £35,000 a year with overtime and enhancements.
Beat the fuel cost rises with free travel on Go North East services, the Metro and some other bus operators – worth over £1,000 a year.
Regionwide travel for your partner and up to 3 children for only 75p a week.
Opportunities for progression into other roles in the company and wider Go-Ahead Group.
Team GNE Awards – annual awards with the chance to win prizes for providing excellent customer service.
Team GNE discounts – saving up to 5% at major supermarkets and up to 10% at high street retailers.
Free uniform is provided and renewed each year.
Pension scheme – automatic enrolment into the company pension scheme. In addition to your own contributions, Go North East will also contribute into your pension fund.
Free eye test.
FAQs
What skills are needed to be a bus driver?
If you like meeting people and driving, then we provide first class training to help you on your way to become a great bus driver.
Do I have to pay for my training?
We provide free comprehensive training worth around £3,000, as well as paying for your Provisional PCV licence and medical.
Can anyone apply?
We welcome applications from anyone that has a full UK manual car licence, and a minimum of 12 months driving experience.
What happens after I apply?
Successful applicants will be invited to an interview, and then an assessment day, which is usually at our Gateshead Riverside depot. The assessment covers highway code, general driving ability along with basic maths and writing skills. A medical test is also carried out, which normally takes place on the same day.
What else happens?
Non-PCV holders will have to apply for their PCV Provisional, but we help out with that and the application.
How long will training take?
Two days training precede the statutory Theory and Hazard Perception Tests, before you move on to driving the vehicles. This lasts on average 15 days, with constant instruction and support. You will get paid a training wage from the day you start training until you pass your PCV test.
How many hours can I work?
A normal working week is 39 hours, which is allocated on a rota system. There are also opportunities to work additional hours.