We're BETTER than ever.
1 year ago Tue 1st Jun 2021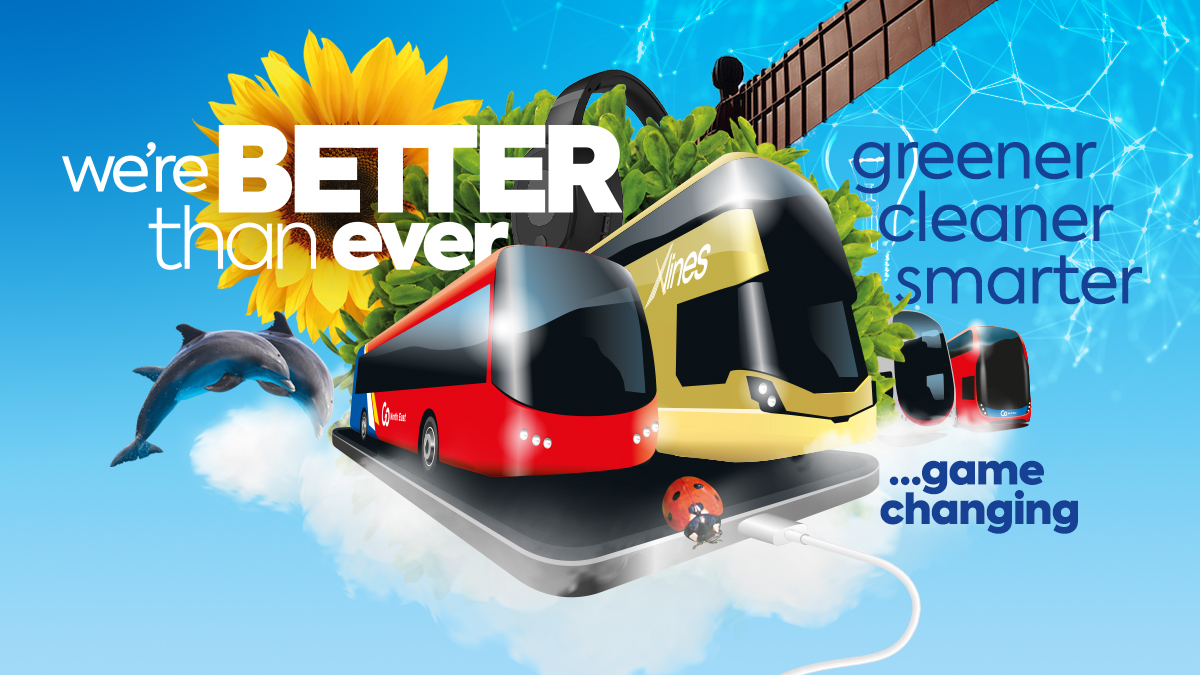 We're BETTER than ever, with full timetables running on services and 24/7 timetables introduced on our popular Angel 21, Cityrider 56 and Drifter 60 routes.
You can view timetables by heading to Go North East's timetables and maps section, selecting your service and changing the calendar to your desired date.
We're greener, cleaner, smarter, in fact we're game-changing... so there's never been a better time to get on board!
Greener
We care about clean air, and we are on a mission to bring lower emissions to the region. We're already introducing big improvements, such as our state-of-the-art Voltra electric buses, and we're seeing Euro 6 technology being rolled out across much of our fleet.
Bus travel has a low carbon footprint by its very nature. Our buses run on green diesel and we're working to make then even greener, with 61% now meeting even better enhanced environmentally friendly standards and more on the way.
Cleaner
Our cleaning teams work to keep you safe. We make sure all touch points are regularly cleansed, and we've also added hand sanitiser pumps to every bus. So, you can travel comfortably knowing we're taking good care of you.
Smarter
Technology is changing the way you travel, you can take control with our live bus times which are available on both our website and app – you can also check in advance how busy your journey is going to be using our When2Travel planning tool.
On the day, you can then check real-time information with our 'how many seats' feature, that shows if the bus is 'quiet', 'moderate' or 'busy' and also shows if the bus is a single or double-decker. It also lets you know what features are on board, such as free Wi-Fi and USB charging.
…Game-changing
Everything we do is aimed at making your journey the absolute best it can be, and we're all about putting the WOW factor into bus travel. We're on a journey to change the game as you know it.


Need to know information
Money saving tickets
We've got a whole range available to suit every need, including our GoZones, Go Local Savers and 5 to 25 tickets.
If you work part-time, or you're splitting your time between home and the office, you can save with our Flexi 5 ticket options. They can be split over any 5 days – once you've activated the first ticket, you'll have a month to use the rest.
We've also introduced a £1 evening fare that can be used for any journey on our buses after 7pm each evening.

X-lines – rapid bus links
Fast, direct bus links to get you to work, to the shops, or off for a nice day out.
Buses are comfortable and easy to spot in their smart gold colour scheme.
With free Wi-Fi and USB charging on board, great value fares, next-stop announcements and drivers that are helpful and friendly, it really is the best way to go.

The launch of our seasonal services
We've launched a range of seasonal services to help give the staycation market a boost.
None of those take your fancy? Check out of things to do page for more days out ideas.

Safety information and travel advice
For the latest safety information and travel tips, check out our dedicated coronavirus page.