Back to school safely and affordably
1 year ago Fri 5th Mar 2021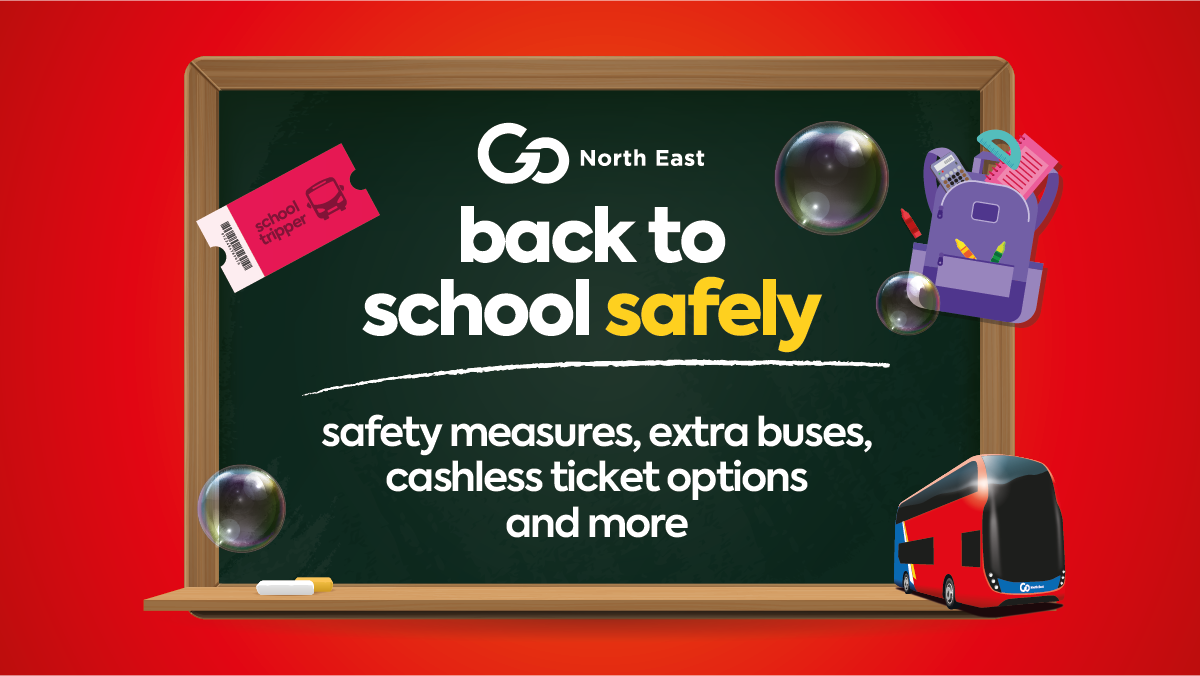 Our buses are clean, safe and comfy, so we're ready to safely and affordably get you back to school from 8 March.
The latest guidance is outlined below, covering both dedicated school transport and public bus services, as well as our ticketing options and advice on cashless payments.
In addition to our normal school services, we're also reintroducing the extra journeys on our normal routes with the route number ending in 'S' that will only be available to school children and college students.
Dedicated school transport (including public bus services which only carry school children)
Buses can operate to their almost full seated capacity with no standees.
Students must sit together based on their year group as part of their school social bubble, and where capacity allows leave a row of seats between each year group.
Face-to-face seating on board cannot be used and will be taped off.
Windows on the bus will be kept open where possible.
Face coverings are mandatory for those aged over 11, subject to government exceptions – see Go North East's latest guidance on this.
Public bus services where other members of the public may also travel
In line with current social distancing guidelines for public transport, buses can now carry up to 50-60% of their usual capacity depending on the mix of single passengers, family groups and school bubbles.
As with dedicated school transport, children may sit together on our bus services in their school or family bubble which enables more people to travel together and increases on board capacity.
Face coverings are also required when travelling on public bus services for anyone aged over 11.
Windows will also be kept open where possible to help with ventilation.
Cashless payments and ticket options for young people
We know that people are using cash less at the moment and we've got lots of convenient options available to make using the bus for school and college as easy as possible.
Contactless, Apple Pay and Google Pay
All of our buses accept contactless, Apple Pay and Google Pay, so if your child already has a contactless bank card they can use this to buy single, day or weekly tickets from the driver.
Go North East app
Our range of discounted day, week and month tickets for people aged between 5 and 25 are all available to buy on the app.
If you're travelling to school and back every day using Go North East services, the £12 weekly School Tripper ticket offers a great value ticket available to use between 7am and 9am and 2pm and 5pm Monday to Friday.
If you're not attending school or college every day our Flexi 5 ticket is ideal – it can be split over any 5 days and once you've activated the first ticket, you'll have a month to use the rest.
Tickets can even be gifted from parents to children if they both have the Go North East app.
Pop blue (for young people aged 16 to 18) | Junior blue – for young people aged 15 and under
Pop blue and Junior blue let you top up money onto your card and use it to buy tickets from the driver, meaning that you don't need to carry cash to travel.
POP blue can be used to buy 5 to 25 day or week tickets from the driver.
Junior Blue can also be used to buy Nexus Under 16 Single and Child All Day Tickets (if you have an Under 16 Pop).
If you do need to use cash on the bus, please make sure you have the correct fare available as at the moment, our drivers are unable to give change.
School duplicate buses
In addition to our normal school buses, we'll be running special extra journeys of our normal services.
These will have the same route number but will end in 'S', so where you see an 'S' on our interactive timetables it's for school and college students only.
If you're unsure which bus you need to catch, you can use our handy journey planner.